---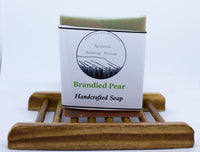 Our Brandied Pear Soap is made with goats milk to feel creamy moisturizing on your skin. 


The Brandied Pear fragrance is a sweet indulgence of ripe pear and cask aged brandy. 
Net Wt: 3.5 oz 

Ingredients: goats milk base, fragrance, mica
*Please note that our soaps are handcrafted and cut by hand. Not every soap will look as pictured or be exact weight.