---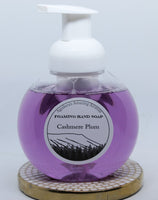 Our gentle foaming hand soap uses the natural moisturizing power of aloe vera to deliver a luxurious foam to clean and kill germs*.
Cashmere Plum fragrance:
Top notes of citrus
Mid notes plum and black cherry 
Base notes of amber, sugar, light musk, freesia, vanilla. 
*Traditional hand soaps are just as effective as anti-bacterial soaps when you wash for 20 seconds.