---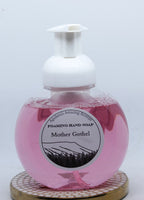 Our gentle foaming hand soap uses the natural moisturizing power of aloe vera to deliver a luxurious foam to clean and kill germs*.
 Mother Gothel fragrance:
A luscious blend of tart cranberries, juicy apples, and spice. Top notes of orange peel and apple sweeten the cranberry heart of this fragrance, while notes of cinnamon, clove, and sugar wrap all the fruits together into a delectable aromatic treat.

*Traditional hand soaps are just as effective as anti-bacterial soaps when you wash for 20 seconds.